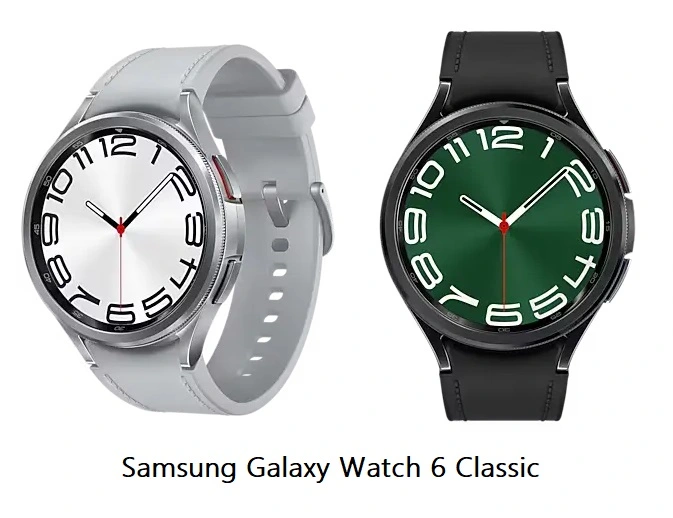 Samsung Galaxy Watch 6 Classic
With the launch of Samsung galaxy watch 6 classic on 26th July 2023, Samsung made their line-up stronger to compete with rivals.
And new Samsung Galaxy watch 6 classic also looks promising and gamechanger for their watch line-up.
With its specs and cool classy design, with bigger display it will definitely grab attention of any one who wants a smart watch for himself or herself.
So, if you want to buy one for yourself, we will help you out to make your decision faster here with this post you will find answer that the New Samsung Galaxy Watch 6 Classic Does fit to your requirement or not.
We have done deep research online to bring this review for you guys.
So, lets jump into its specs first to know it little better.
Samsung Galaxy Watch 6 Classic Configuration
Two sizes are available 43mm and 47mm
1.3-inch 432×432 pixel Super Amoled display on 43mm and 1.5-inch 480×480 pixel Super Amoled display on 47mm
Rotating Bezel
Stainless Steel body
GPS, GLONASS, BEIDOU, GALILEO
4G LTE, Bluetooth, NFC and Wi-Fi
IP68 And 5 ATM Water resistant
Exynos W-930 Processor 1.4 Ghz
2GB Ram And 16GB Storage
Wear OS Powered by Samsung
300 mAh Batter In 1.3-inch / 425 mAh Battery In 1.5-inch Device
Ref – GSM ARENA, TECH RADAR AND SAMSUNG
Samsung Galaxy Watch 6 Classic Review
Now the thin detailing is over and come to the main point now. If you want to buy a Samsung Galaxy Watch 6 Classic, why would you even prefer this let's know this.
Samsung Galaxy Watch 6 Classic Display and Design
So, first thing first its rotating bezel is back in the game any many of you liked it in past so much and for the new coatomer's it will be a deal breaker to.
Its Stainless-steel Body makes it feels so premium And Classy as its name suggest Classic. It comes in two sizes 43 mm and 47 mm and appeals to the large mass of audiences. And it is also 10.9 mm thin which is less than previous version.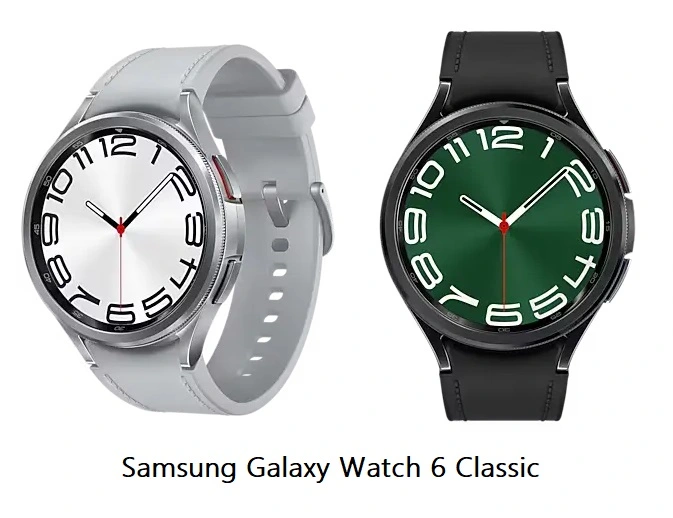 Talking about the display, its brightness is pretty good so that you will never miss any notification out there in your watch in sunny day. And also protected with sapphire crystal for scratches.
It comes with 5 ATM water resistant And IP 68 Rating.
Samsung Galaxy Watch 6 Classic Battery
Depending upon the size you choose it has two battery capacity available 300mAh for 43mm size watch and 425mAh for 47 mm Size Watch. Although battery seems small on both of the sized watch but Samsung promises 40 hrs of life on a single charge.
Which may be very less for most of the guys who may want at least 72 hrs of life. I.e., who want to charge it again and again so it may be a concern for someone who prefers battery life.
Samsung Galaxy Watch 6 Classic Performance
it comes with Exynos W 930 1.4 GHz processor with 2 GB Ram so its performance is so smooth you can do your all the tasks very easily it will not lag any bit.
And talking about OS it has Wear OS 4 with ONE UI 5 Watch. Which works very smoothly again. So, Samsung made it like that it can be integrated with any of the android phones very easily specially with the Galaxy Phones Like Samsung Galaxy Flip and Fold.
Watch 6 Sensors and connectivity
It has all the sensors like heart Rate BP. Temperature etc you need and it will not lack any of those that you need and talking about connectivity it has Wi-Fi, Bluetooth 5.3 and 4G LTE.
It has Infrared sensors that work at night instead of red and green light to measure an Oxygen level and Blood Pressure at night. So that your sleep pattern will not be disturbed by the lights itself.
Well, the question is who is comfortable sleeping with watch in hand. Because I'm not.
Our Verdict
In terms design and specs and performance it is definitely a go to device. It looks so amazing and its rotating bezel is very helpful navigating through apps.
And it also looks classy when you wear it. You can choose it for its looks and performance and because its just launched its definitely future proof.
The only concern you may see over the time is that it has a little less battery than expected. Other than that, you can anytime choose it over any of its contenders, it will not disappoint you.